Explore Productivity with the S-TEK Gel Mouse Pad in Oman
Boost Your Productivity: Get special discount on S-TEK Gel Mouse Pad in Oman!
Comfort and Ergonomics for Extended Use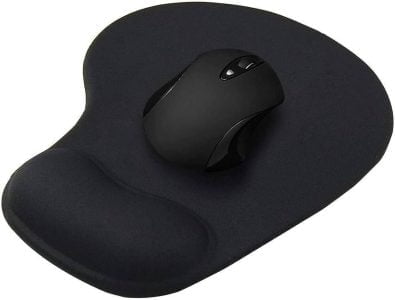 Make your work hours a breeze with the S-TEK Gel Mouse Pad, designed to provide unparalleled comfort and support for your wrists and hands. The innovative gel cushioning molds perfectly to the contours of your wrist, offering exceptional ergonomic benefits during prolonged usage.
Crafted for Comfort: The gel-filled pad cradles your wrist, reducing strain and pressure points, while promoting a neutral wrist position that prevents fatigue.
Enhanced Precision: The smooth, low-friction surface ensures effortless mouse movements, improving accuracy and control.
Non-Slip Base: The sturdy non-slip base keeps the mouse pad firmly in place, preventing any unwanted slipping or sliding during intense gaming or precise work tasks.
Durability and Quality for Long-Lasting Performance
Invest in a mouse pad that stands the test of time – the S-TEK Gel Mouse Pad is engineered with durability and high-quality materials to endure years of heavy use.
Premium Materials: The surface of the mouse pad is made from premium materials that are resistant to wear and tear, guaranteeing smooth gliding and minimal wear even with constant usage.
Easy to Clean: Effortlessly wipe away dirt, dust, and spills with a damp cloth, keeping your mouse pad looking fresh and new throughout its long lifespan.
Reinforced Edges: The edges of the mouse pad are reinforced to prevent fraying and ensure its structural integrity remains intact.
Style and Aesthetics to Elevate Your Setup
Embrace the perfect blend of style and functionality with the S-TEK Gel Mouse Pad. Its sleek design and modern aesthetics add a touch of elegance to any workstation or gaming setup.
Contemporary Design: The minimalist and chic design complements any workspace, adding a touch of sophistication to your environment.
Vibrant Artwork Options: Choose from a range of eye-catching designs and vibrant artwork to personalize your mouse pad and reflect your unique personality.
Ideal Gift: Treat yourself or surprise a loved one with this practical and stylish gift, perfect for professionals, gamers, or anyone seeking comfort and elegance in their workspace.