Elevate Your Computing Experience with the Logitech MK120 USB Keyboard and Mouse Combo
We are excited to introduce you to the Logitech MK120 USB Keyboard and Mouse Combo, a dynamic duo that promises to enhance your computing experience. With its exceptional features and user-friendly design, this combo is poised to become your perfect companion for work, play, and everything in between. Boost Productivity by 3x with Logitech MK120: USB Keyboard and Mouse Combo.
Smooth Typing with the Logitech MK120 Keyboard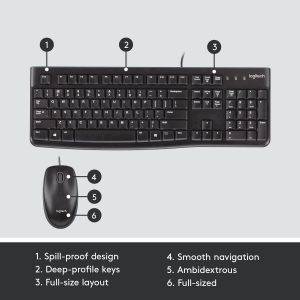 Unparalleled Comfort
The Logitech MK120 USB Keyboard takes your typing comfort to the next level. Crafted with precision, the full-size layout of the keyboard ensures that every keystroke feels natural and effortless. The low-profile keys are designed to provide a quiet and comfortable typing experience, making it ideal for long hours of work or creative endeavors.
Durable and Reliable
Designed for durability, the Logitech MK120 Keyboard is built to withstand the test of time. The sturdy construction and spill-resistant design add an extra layer of protection, ensuring that accidental spills won't disrupt your workflow. Say goodbye to worries about accidental liquid damage, as this keyboard is engineered to keep up with your busy lifestyle.
Convenient Hotkeys
Boost your productivity with the conveniently placed hotkeys on the Logitech MK120 Keyboard. Instantly access your email, calculator, and volume controls with the touch of a button. These dedicated hotkeys streamline your tasks and save you valuable time, allowing you to focus on what matters most.
Precision Pointing with the Logitech MK120 Mouse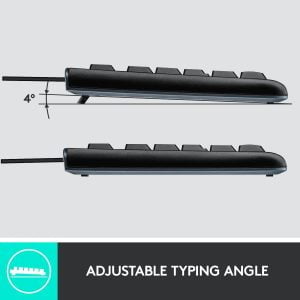 Smooth Navigation
The Logitech MK120 USB Mouse complements the keyboard perfectly, delivering smooth and precise navigation. Whether you're browsing the web, editing documents, or creating digital art, the responsive optical tracking ensures that every movement is accurately translated on screen.
Ergonomic Design
Comfort meets functionality with the ergonomic design of the Logitech MK120 Mouse. Designed to fit comfortably in both left and right hands, this mouse reduces strain during extended use. The contoured shape provides a natural grip, allowing for hours of seamless navigation without discomfort.
Seamless Connectivity and Installation
Plug-and-Play Convenience
Setting up the Logitech MK120 USB Keyboard and Mouse Combo couldn't be easier. Simply plug the USB connectors into your computer, and you're ready to go. The plug-and-play functionality eliminates the need for complicated installation processes, allowing you to start using the combo within seconds.
Wide Compatibility
The Logitech MK120 USB Keyboard and Mouse Combo is compatible with a wide range of operating systems, making it suitable for various devices. Whether you're using a Windows PC, Mac, or Linux machine, this combo is designed to seamlessly integrate with your setup.