Buy Best Logitech K400 Plus Wireless Touch Keyboard in Oman
In today's rapidly evolving digital landscape, having the right tools to enhance your computing experience is crucial. Among these tools, a wireless touch keyboard stands out as a versatile accessory that can significantly improve your productivity and comfort. The Logitech K400 Plus Wireless Touch Keyboard in Black is a prime example of innovation meeting functionality.
Enhance Control and Comfort: Logitech K400 Plus Wireless Touch Keyboard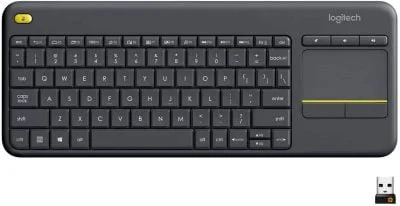 The Logitech K400 Plus is more than just a keyboard – it's a gateway to seamless navigation and control of your digital world. Designed with both style and functionality in mind, this wireless touch keyboard is a game-changer for various computing activities. Whether you're using it for work, entertainment, or casual browsing, the K400 Plus has you covered.
Key Features and Benefits
1. Wireless Convenience
Say goodbye to the hassle of tangled wires and limited movement. The Logitech K400 Plus offers wireless connectivity with a range of up to 33 feet, allowing you to comfortably control your connected devices from a distance. Whether you're lounging on your couch or giving a presentation, the wireless design ensures flexibility and freedom.
2. Integrated Touchpad
One of the standout features of the K400 Plus is its built-in touchpad. This eliminates the need for a separate mouse, streamlining your setup and saving valuable desk space. The touchpad is designed for smooth and precise navigation, making it ideal for tasks that require accuracy.
3. Enhanced Compatibility
The K400 Plus is engineered to work seamlessly with various operating systems, including Windows, Android, and even Smart TVs. This broad compatibility makes it a versatile option for different devices, ensuring a consistent typing and navigation experience across platforms.
4. Long-Lasting Battery Life
Worried about frequent battery replacements? The K400 Plus alleviates that concern with its impressive battery life. With up to 18 months of usage on just two AA batteries, you can focus more on your tasks and less on hunting for batteries.
Unlocking Efficiency with the K400 Plus
The Logitech K400 Plus isn't just about convenience; it's also a tool for boosting your productivity. Let's explore some scenarios where this wireless touch keyboard shines:
Effortless Multimedia Control
Whether you're enjoying a movie, listening to music, or giving a presentation, the K400 Plus enhances your multimedia control. The integrated touchpad lets you navigate through media players with ease, adjusting volume, playback, and more, all from the comfort of your seat.
Smooth Web Browsing
Casual browsing or research tasks are made more efficient with the K400 Plus. Its touchpad supports multi-touch gestures, allowing you to zoom in, scroll, and navigate between tabs effortlessly. Say goodbye to the constant reach for your mouse.
Navigating Smart TVs
Smart TVs have transformed the way we experience entertainment, but their on-screen keyboards can be cumbersome. With the K400 Plus, you can type in search queries, passwords, and more, using a full keyboard layout instead of a remote control's tedious on-screen keyboard.