Logitech M170 Wireless Mouse: Smooth and Effortless Control
Introducing the Logitech M170 Wireless Mouse, your ultimate companion for seamless productivity and effortless navigation. Say goodbye to tangled cords and hello to boundless freedom with this high-performing wireless marvel.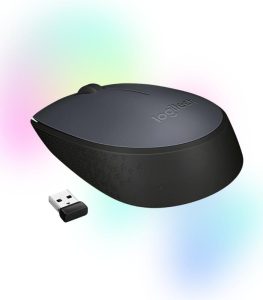 Experience unparalleled comfort as the Logitech M170 ergonomically fits your hand like a glove, providing hours of tireless use without strain or discomfort. Its sleek and compact design ensures easy portability, making it a perfect travel buddy for on-the-go professionals.
With cutting-edge wireless technology, the Logitech M170 ensures a reliable connection up to 33 feet away from your device, allowing you to work, browse, or game without any interruptions. Say farewell to the limitations of wired mice and embrace a clutter-free workspace.
Navigate through documents and webpages with remarkable precision and fluidity using the M170's advanced optical tracking system. Its responsive and accurate sensor ensures every movement is effortlessly translated on your screen, increasing productivity and efficiency.
Designed to conserve energy, the Logitech M170's power-saving mode automatically activates when idle, extending the battery life significantly. Say hello to long-lasting performance without worrying about constant battery replacements.
Enhance your online experience with the M170's intuitive scrolling wheel, providing swift and smooth scrolling through pages and documents. Seamlessly switch between applications and breeze through tasks with utmost ease.
Revolutionize the way you work and play with this incredible mouse, perfectly compatible with Windows, macOS, Chrome OS, and Linux. Whatever your device, the Logitech M170 adapts seamlessly, delivering consistent performance across platforms.
Unleash the power of the Logitech M170 Wireless Mouse today and elevate your productivity to new heights. Upgrade your setup with this advanced device, and experience the freedom of wireless precision at your fingertips.
Make the smart choice for your digital lifestyle – get your Logitech M170 Wireless Mouse now and unlock a world of limitless possibilities!
Wireless Freedom and Precision
Experience the ultimate freedom with the Logitech M170 Wireless Mouse. This cutting-edge peripheral is designed to provide you with smooth and effortless control over your digital world. Say goodbye to tangled cables and limited movement – the wireless technology of the Logitech M170 allows you to navigate your computer, laptop, or tablet with ease, providing a seamless user experience.
Wireless Connectivity: Enjoy the convenience of wireless connectivity with the Logitech M170, ensuring you are not tethered to your device. Move around freely and control your computer from a distance of up to 33 feet (10 meters), making it perfect for presentations, entertainment, and productivity tasks.
Precise Tracking: The Logitech M170 features advanced optical tracking technology, delivering precise and accurate cursor control on various surfaces. Whether you're working on a desk, couch, or even your bed, the mouse ensures smooth tracking for increased productivity.
Plug-and-Play Convenience: Get started in no time with the easy plug-and-play setup. Simply insert the included USB receiver into your computer's USB port, and the mouse is instantly connected and ready for action.
Ergonomic Design for Extended Comfort
The Logitech M170 Wireless Mouse is not only about performance; it also prioritizes your comfort during extended use. Its ergonomic design fits snugly into your hand, reducing strain and discomfort even after hours of work or play.
Contoured Shape: The mouse's contoured shape is engineered to fit the natural curve of your hand, providing a comfortable grip and reducing wrist fatigue. This allows you to use the Logitech M170 for extended periods without any discomfort.
Ambidextrous Design: Whether you're left-handed or right-handed, the ambidextrous design of the Logitech M170 ensures that everyone can enjoy its ergonomic benefits. No matter your hand orientation, you'll experience the same level of comfort and precision.
Durable Build: Crafted with high-quality materials, the Logitech M170 is built to withstand daily wear and tear, ensuring longevity and reliability for all your computing needs.
Enhance Productivity and Simplify Tasks
Unleash your productivity with the Logitech M170 Wireless Mouse. This remarkable device comes equipped with additional features that simplify tasks and enhance your overall computing experience.
Programmable Buttons: Customize your mouse to suit your workflow with programmable buttons. Assign specific functions, shortcuts, or commands to the buttons for quick access, streamlining your daily tasks.
Long-lasting Battery Life: The Logitech M170 boasts an impressive battery life that can last for months on a single AA battery, reducing the need for frequent replacements and ensuring uninterrupted productivity.
Versatility: The mouse is compatible with various operating systems, including Windows, Mac, Chrome OS, and Linux, making it suitable for a wide range of devices. Seamlessly switch between devices and maximize your efficiency.