Nippo Wireless Headphone NP-100: Unleashing the Ultimate Sound Experience
If you're in the market for an exceptional audio companion that seamlessly combines cutting-edge technology with supreme comfort, you've come to the right place. Elevate Your Audio Experience with NIPPO NP-100 Wireless HD Headset – Get Yours Now!
Introduction: A Glimpse into Innovation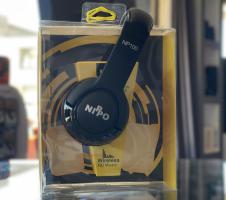 The Nippo Wireless Headphone NP-100 is more than just a listening device; it's a marvel of modern engineering. Crafted to cater to the needs of audiophiles and casual listeners alike, this headphone boasts an array of features that promise to elevate your sound experience to new heights.
Superior Sound Quality: Where Every Note Comes Alive
At the heart of the NP-100 lies its commitment to delivering impeccable sound quality. Equipped with advanced audio technology, these headphones reproduce music and audio with exceptional clarity, depth, and precision. Whether you're enjoying your favorite tunes, diving into a podcast, or immersing yourself in a movie, the NP-100 ensures that every note, beat, and word is heard as the artist intended.
Cutting-Edge Wireless Technology: Unrestricted Movement, Boundless Sound
Say goodbye to tangled wires and restrictive cords. The NP-100 features cutting-edge wireless technology that provides the freedom to move without limitations. Seamlessly connect to your devices via Bluetooth, and enjoy your music without being tethered to your source. Whether you're working out, commuting, or simply relaxing at home, these headphones ensure uninterrupted sound and comfort.
Comfort Redefined: Designed for Prolonged Listening Pleasure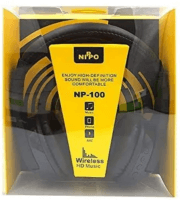 Long listening sessions are a breeze with the NP-100. The ergonomic design and plush cushioning ensure optimal comfort, even during extended wear. The adjustable headband and cushioned ear cups conform to your unique contours, making the NP-100 a perfect companion for your daily activities.
Endurance that Matches Your Pace: Long-Lasting Battery Life
We understand the importance of uninterrupted listening. The NP-100 comes equipped with a robust battery that provides hours of playtime on a single charge. Whether you're embarking on a cross-country journey or simply need music to power through your day, the NP-100 has you covered.
Smooth Connectivity: Stay in Control
With intuitive on-device controls, managing your audio experience has never been easier. Adjust volume, switch tracks, and take calls effortlessly with the conveniently placed buttons. The NP-100 ensures that you stay connected without having to reach for your device.