Enhance Your Visual Experience with the VGA to HDMI Converter in Oman
| Specification | Details |
| --- | --- |
| Product Name | VGA to HDMI Converter |
| Connectivity | VGA-enabled devices (laptops, desktops, gaming consoles) to HDMI-compatible displays (HDTVs, monitors, projectors) |
| Supported Resolutions | Up to 1080p |
| Ease of Use | Plug-and-play functionality, no complex configurations or additional software installations required |
| Image Quality | High-definition visuals with crisp and sharp details |
| Signal Processing Technology | Advanced technology for stable and reliable connection, eliminating signal loss or interference |
| Visual Experience | Enhanced movie streaming, gaming, and presentation delivery |
| Compatibility | Compatible with a wide range of devices |
| Portability | Compact and lightweight design for easy transportation |
| Durability | Durable construction for long-lasting performance |
| Application | Suitable for professionals, gamers, and home entertainment enthusiasts |
Connect and Stream
Experience a new level of visual brilliance with the VGA to HDMI Converter in Oman. This innovative device allows you to connect your VGA-enabled devices, such as laptops, desktops, or gaming consoles, to HDMI-compatible displays like HDTVs, monitors, or projectors. Seamlessly stream your favorite movies, videos, and games on a larger screen with stunning clarity and vibrant colors.
With the VGA to HDMI Converter, enjoy the convenience of hassle-free connectivity. Simply plug in the VGA cable from your device into the converter, connect the HDMI cable to your display, and witness the transformation of your visuals. No need for complex configurations or additional software installations. It's a user-friendly solution that works right out of the box, saving you time and effort.
Power of High-Definition
Unlock the true potential of your VGA devices with the VGA to HDMI Converter. This remarkable converter supports high-definition resolutions up to 1080p, ensuring crisp and sharp visuals that bring every detail to life. Whether you're watching your favorite movies, engaging in immersive gaming sessions, or delivering impactful presentations, the VGA to HDMI Converter delivers unparalleled image quality.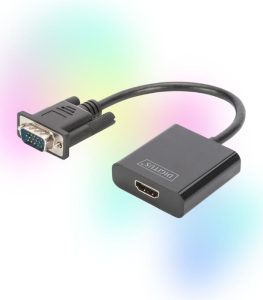 Say goodbye to blurry or distorted visuals. The advanced signal processing technology of the converter ensures a stable and reliable connection, eliminating signal loss or interference. Experience smooth video playback, fluid motion, and vibrant colors that immerse you in your content like never before. Elevate your visual experience and let the VGA to HDMI Converter redefine the way you connect and display your VGA devices.
Versatile Compatibility and Portability
The VGA to HDMI Converter in Oman is designed to be compatible with a wide range of devices, making it a versatile addition to your tech arsenal. Whether you're a professional seeking to enhance your presentations, a gamer looking for a competitive edge, or a home entertainment enthusiast wanting to elevate your movie nights, this converter caters to all your needs.
The compact and lightweight design of the VGA to HDMI Converter makes it easy to carry with you wherever you go. Whether you're traveling for business or leisure, ensure you always have the means to connect and display your VGA devices on HDMI-compatible screens. Its durable construction guarantees long-lasting performance, making it a reliable companion for all your visual needs.