Unlock Efficiency and Comfort with the Logitech MK220 Wireless Combo Keyboard and Mouse
In the ever-evolving landscape of technology, finding the perfect peripherals for your workstation can make a world of difference. Introducing the Logitech MK220 Wireless Combo Keyboard – a powerhouse solution designed to enhance your computing experience with its blend of efficiency, comfort, and advanced features.
Efficiency Redefined
The Logitech MK220 Wireless Combo Keyboard redefines efficiency with its compact design and seamless wireless connectivity. Crafted to optimize desk space, this keyboard's sleek form factor ensures that you have ample room for other essentials while allowing you to type comfortably. The wireless connectivity eliminates the clutter of cables, providing you with the freedom to position the keyboard at your preferred angle.
Exceptional Typing Experience
At the heart of the Logitech MK220 lies a commitment to delivering an exceptional typing experience. The keys are meticulously engineered to provide a responsive and tactile feel, allowing your fingers to glide effortlessly over them. The whisper-quiet keystrokes minimize distractions for both you and those around you, making it an ideal choice for office and home environments alike.
Long-Lasting Battery Life
Tired of constantly changing batteries? The Logitech MK220 addresses this concern with its remarkable battery life. With a battery life of up to 24 months for the keyboard and five months for the mouse, you can bid farewell to the hassle of frequent battery replacements. This extended battery life ensures uninterrupted usage, boosting your productivity without the constant worry of power depletion.
Compact Yet Functional
Don't let the compact size fool you – the Logitech MK220 packs a punch when it comes to functionality. The keyboard features a full set of function keys for quick access to essential commands, enhancing your workflow efficiency. The included mouse complements the keyboard perfectly, offering precise control and responsiveness for your tasks.
Plug-and-Play Simplicity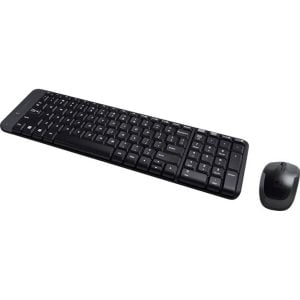 Setting up the Logitech MK220 Wireless Combo Keyboard is a breeze. Thanks to its plug-and-play simplicity, you can connect the keyboard and mouse to your system effortlessly, without the need for complex installations or drivers. This means you can dive right into your tasks without wasting precious time on setup procedures.