Performance and Processor: Empowering Your Productivity
At the heart of the Dell Latitude 5430 i7 Laptop lies the groundbreaking Intel Core™️ i7-1255U 12th Gen processor. This processor offers an exceptional blend of performance and efficiency, ensuring that your tasks are completed swiftly and smoothly. Whether you're working on complex spreadsheets, editing multimedia content, or multitasking between applications, this laptop's processor keeps up with your demands.
Memory and Storage: Speed and Responsiveness
Equipped with 8GB of DDR4 non-ECC RAM, the Dell Latitude 5430 i7 Laptop ensures seamless multitasking and quick data access. Combined with a spacious 512GB Solid State Drive (SSD), you'll experience rapid boot times, near-instant file access, and overall responsiveness that traditional hard drives can't match. The DDR4 RAM enhances the overall speed of operations, while the SSD accelerates data retrieval for a more efficient workflow.
Graphics Capability: Seamless Visuals
Experience visuals like never before with the laptop's shared graphics setup. While shared graphics might sound modest, they provide ample power for everyday tasks, media consumption, and even some light gaming. This setup ensures smooth video playback, vibrant visuals, and better power efficiency.
Multimedia Features: Elevating Collaboration and Creativity
The inclusion of a Camera and Microphone (Cam & Mic) in the Dell Latitude 5430 i7 Laptop takes your video conferencing and content creation experiences to the next level. Seamlessly connect with colleagues, friends, and family through crystal-clear video calls. Capture your ideas and creative projects with clarity, thanks to the high-quality microphone and camera.
Operating System: Your Digital Canvas
Out of the box, the laptop comes with the DOS (Disk Operating System), providing a clean slate for you to install your preferred operating system. DOS serves as a foundation for customization, allowing you to tailor the laptop's environment to your specific needs.
Display and Visual Experience: Immersive FHD Display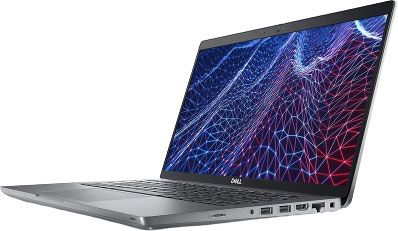 The laptop features a stunning 14″ Full High Definition (FHD) screen that delivers crisp visuals and lifelike colors. Whether you're watching movies, editing photos, or working on documents, the FHD resolution ensures every detail stands out, enhancing your overall viewing experience.
Portability and Form Factor: Your On-the-Go Companion
The Dell Latitude 5430 i7 Laptop's compact size and sleek form factor make it a perfect companion for those who are always on the move. Slip it into your bag effortlessly and take it wherever you go. Its portability doesn't compromise its performance, ensuring you can be productive regardless of your location.
Conclusion:
To summarize, the Dell Latitude 5430 i7 Laptop is a powerhouse of technology and innovation. With its Intel Core™️ i7-1255U 12th Gen processor, ample memory, speedy SSD, versatile graphics, multimedia enhancements, customizable operating system, captivating display, and impeccable portability, it caters to professionals, students, creatives, and everyone in between. Experience efficiency, creativity, and convenience like never before with this remarkable laptop.
FAQs (Frequently Asked Questions)
Is the laptop suitable for gaming?
The shared graphics setup allows for light gaming, making it suitable for casual gamers.
Can I upgrade the RAM and storage?
Yes, the laptop allows for easy upgrades to enhance performance and storage capacity.
Does the laptop have a backlit keyboard?
Yes, the laptop features a backlit keyboard for comfortable typing in various lighting conditions.
What is the battery life like?
The laptop offers impressive battery life, allowing you to work and play for extended periods.
Can I install my preferred operating system?
Absolutely, the laptop comes with DOS, providing a blank canvas for you to install your chosen OS.
Is the laptop suitable for video editing?
With its powerful processor and high-quality display, the laptop is capable of handling video editing tasks efficiently.
Are there security features included?
Yes, the laptop includes security features like biometric authentication and encryption options.
Can I connect external monitors?
Yes, the laptop supports external monitor connections for enhanced multitasking and presentation purposes.
Is the laptop Wi-Fi and Bluetooth enabled?
Yes, the laptop features Wi-Fi and Bluetooth connectivity for seamless wireless communication.
What warranty is included with the laptop?
The laptop comes with a standard manufacturer's warranty, ensuring your investment is protected.