Introducing the Lenovo Yoga Slim 7 Laptop: A Perfect Blend of Performance and Portability
Are you in search of a laptop that seamlessly combines powerful performance with exceptional portability? Look no further than the Lenovo Yoga Slim 7 Laptop. With its impressive specifications and innovative design, the Yoga Slim 7 is a versatile companion for both work and play. Let's dive into the details that make this laptop a standout choice.
Key Specifications at a Glance:
Processor: Intel Core i7-1165G7
Memory: 16GB RAM DDR4 Non-ECC
Storage: 1TB Solid State Drive (SSD)
Graphics: Integrated Intel Iris Xe Graphics
Operating System: Windows 11 Home
Display: 14″ FHD Display – Slate Grey
Unleash Your Potential with Powerful Processing:
At the heart of the Lenovo Yoga Slim 7 is the Intel Core i7-1165G7 Processor. This cutting-edge processor ensures swift performance and responsiveness for all your computing needs. Whether you're editing videos, running resource-intensive software, or multitasking with numerous applications, the i7-1165G7 processor delivers an exceptional experience.
Experience Seamlessness with Ample Memory and Storage:
Equipped with 16GB of DDR4 RAM, the Yoga Slim 7 lets you breeze through tasks effortlessly. The ample RAM ensures smooth multitasking, enabling you to switch between applications without any lag. Paired with a lightning-fast 1TB SSD, you'll experience quick boot times, rapid data access, and seamless file transfers, enhancing your overall productivity.
Graphics That Elevate Your Visuals:
The integrated Intel Iris Xe Graphics bring vibrant visuals to life. Whether you're enjoying multimedia content or engaging in casual gaming, the Yoga Slim 7 delivers impressive graphics performance. Dive into immersive experiences, and let the Intel Iris Xe Graphics enhance your entertainment.
Windows 11: A Perfect Partner for Enhanced Efficiency:
With Windows 11 Home as the operating system, the Yoga Slim 7 is optimized for productivity and user-friendly navigation. Take advantage of new features and improvements that Windows 11 offers, and experience seamless integration with the laptop's hardware, resulting in an efficient and enjoyable computing experience.
Immersive Display and Striking Design:
The 14″ Full High Definition (FHD) Display of the Yoga Slim 7 brings your content to life with crisp details and vibrant colors. The Slate Grey color adds a touch of sophistication, making the laptop visually appealing. Whether you're working on projects or enjoying multimedia, the FHD display enhances your viewing experience.
Designed for Life on the Move: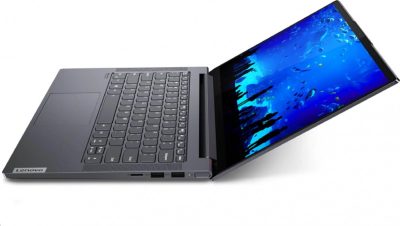 The Lenovo Yoga Slim 7 boasts a compact and slim design, making it perfect for those on the go. Its portability is further enhanced by the incorporation of the Yoga hinge, which allows you to switch between laptop and tablet modes effortlessly. This innovative design ensures that you can carry your productivity and entertainment wherever you are.
Stay Connected with Diverse Ports:
The laptop offers a range of ports, including USB and HDMI, providing the connectivity you need for various peripherals. Whether you're connecting external displays, transferring data, or charging devices, the Yoga Slim 7 has you covered.
All-Day Productivity with Impressive Battery Life:
The laptop's battery life keeps you productive throughout the day, whether you're working remotely or traveling. Say goodbye to frequent charging and stay focused on what matters most.
Conclusion: Your Ideal Companion Awaits:
In conclusion, the Lenovo Yoga Slim 7 Laptop effortlessly combines top-notch performance, sleek design, and portability. Whether you're a professional, student, or casual user, this laptop caters to your needs with its powerful specifications. Experience the best of both worlds – performance and portability – with the Yoga Slim 7.
FAQs:
Can I use the Lenovo Yoga Slim 7 for gaming?
While it's suitable for casual gaming, it's not optimized for high-end gaming experiences.
Does the laptop support touch input?
Yes, the Yoga Slim 7 features a touch-enabled display for intuitive interaction.
Can I upgrade the RAM in the future?
The RAM is soldered onto the motherboard, so it's not user-upgradeable.
Is the laptop compatible with external monitors?
Absolutely, you can connect external monitors using the available ports.
What's the battery life like during continuous usage?
The laptop offers around 8 to 10 hours of battery life under normal usage.
Is the Yoga Slim 7 suitable for graphic design work?
Yes, the laptop's specifications make it capable of handling graphic design tasks.
Does the laptop come with pre-installed software?
Yes, it comes with essential software and Windows 11 pre-installed.
Can I use a stylus with the touch display?
Yes, the touch display supports stylus input for precise interactions.
Does the laptop support Wi-Fi 6 connectivity?
Yes, the Yoga Slim 7 supports Wi-Fi 6 for faster and more stable wireless connections.
Is the laptop's keyboard backlit?
Yes, the laptop features a backlit keyboard for comfortable typing in various lighting conditions.